Scrubs & Beyond is proud to be part of Kindthread's ecosystem of brands, dedicated to serving and transforming the healthcare apparel industry while driving positive community impact. For over 20 years, Scrubs & Beyond has offered fashion-forward products and outstanding customer service. Seeing an opportunity to raise the bar and provide a transformative experience catering to discerning healthcare professionals, Scrubs & Beyond has grown its business to become the largest retailer of healthcare apparel and accessories in the country. With the acquisition of Uniform City and Life Uniform companies in 2013, Scrubs & Beyond currently operates 114 stores in 30 states nationwide and is one of the largest scrubs-based ecommerce businesses with a relentless focus on customer experience.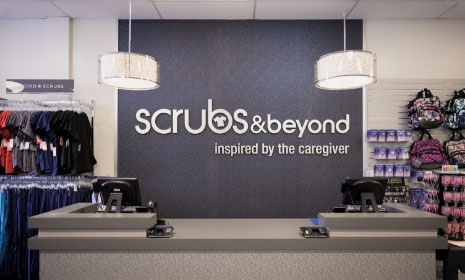 With the acquisition in 2013 of Life Uniform and Uniform City, Scrubs & Beyond became the industry leader and largest supplier of healthcare apparel and accessories. With over 114 stores nationwide and our online platform, we offer healthcare apparel to caregivers and medical professionals all throughout the nation.
In 2015, we launched Beyond Scrubs––a line with premium style, fit, fabric and functional details for the modern, feminine caregiver. The label quickly became a customer favorite and has expanded into Active and Men's collections.
Our large presence allows us to offer the best selection of uniforms, with exclusive brands, styles and colors. Whether you visit us in store or online, you'll find merchandise from top industry labels like Grey's Anatomy, Landau, Urbane, Cherokee, Koi, Barco, MedCouture, Dickies, Dansko, Littmann and more, as well as fashion forward private label collections, including our very own Beyond Scrubs brand, only found at Scrubs & Beyond.
We are excited by the future and continue to focus on creating enjoyable shopping experiences. We provide value, outstanding service, quality and selection to medical professionals and beyond.